I don't normally post these, but I wanted to log my reactions to each.
Watch live video from Nintendo on www.twitch.tv
http://www.twitch.tv/nintendo
Twilight Princess HD in March, Next Zelda in 2016 (so not on the NX), what else is a highlight? (I'm not watching)
UPDATED COMMENT: AHHH AMIIBO AND AHHH!
Pokémon Dungeon something, ALL Pokémon in it. Every one, they were specific in that.
Mario Tennis Ultra Smash is a thing I wasn't aware of.
WAit someone just got possessed by a yokai.
Pokken Tourney first run will have an amibo card for Shadow whatever Mega Mewtwo (which you could unlock by specific things in game). (spring 2016)
StarFox whatever, vehicle based. Haha the Gyrocopter can deploy a ROB. Wii-U. April 22nd 2016.
Paper Mario and Luigi? More Mario and Luigi than Paper. Battlecards in the RPG battles. "YOU'LL HAVE TO HAVE THEM ALL". January 22nd?
Final Fantasy Explorers. 3DS. Job system! Live instead of turnbased battles. "Trans-Ability" hehe. Up to 4 player. January 26th, includes the DLC from Japan. Collector's Edition looks bomb.
Fire Emblem Fates. 3DS. The one that has like 2 versions, complete story and game, play both blah blah. Buy one, get the other at reduced price. 3rd part will come later. Special Edition contains all 3 games (And stuff) . Feb 19th, 2016.
MegaMan Legacy Collection: The first 6 games. Concept art and stuff. Challenge mode with remixed stages. 11 challenges exclusive, can use Megaman Amibo. GOLD Megaman availabile in Legacy Edition. Feb 23rd.
Pokemon 3DS: Digital Download of Red Blue Yellow AHAHAHAH! YOU CAN TRADE POKEMON VIA THE 3DS SHIT YESSSSSS. Feb 27th.
Japan gets physical editions that include magnet cartridges and townmaps!
Hyrule Warriors: Legends, a 3DS version with more content. Some new characters. FUCKING GIRL LINK. NERD BONER ALERT. MY DICK IS READY. March 25th.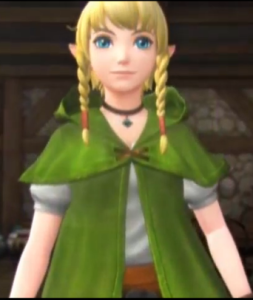 Linkle in Hyrule.
—
And this is Linkle in High-rule.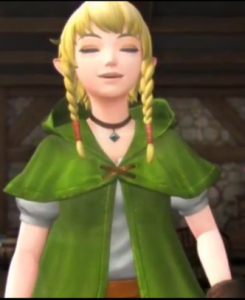 Bravely Second End Layer, 2016.
Dragon Quest 7, Fragments of whatever, early summer 2016.
DQ8 also in 2016. JesusChrist that is a lot of RPG.
Then like dev partner games listed, indie and other stuff I'm not listing HOLY SHIT KERBAL SPACE PROGRAM?
New Trailer for….Super Smash Bros 4, FINAL FANTASY 7 WHAT WHAT??? CLOUD CLOUD!
SSMB Special Broadcast coming December 2015.